23feb6:30 pm- 8:00 pmWillful Subjects: Decolonizing the Psychiatric Institution
Event Details
About this event
This panel begins the 47th annual Scholar and Feminist Conference, "Living in Madness: Decolonization, Creation, Healing." Panelists will discuss Institutional histories of psychiatry, focused on anti-institutional movements, radical institution-building, and alternate approaches to psychic life by practitioners and clinicians challenging the use of mental health systems as sites of state power, political oppression, and psychic violence. Our conversation will thread together case studies from the United States, China, France, and Palestine with: Liat Ben Moshe, author of Decarcerating Disability: Deinstitutionalization and Prison Abolition (2020); Emily Ng, author of A Time of Lost Gods: Mediumship, Madness, and the Ghost after Mao (2020); Camille Robcis, author of Disalienation: Politics, Philosophy, and Radical Psychiatry in Postwar France (2021); and Lara Sheehi, co – author with Stephen Sheehi of Psychoanalysis Under Occupation: Practicing Resistance in Palestine (2022), reflecting on the power of collective imagination, willful subjectivity, and witnessing as forms of resistance.
Join us on YouTube on 2/23 at 6:30 p.m., or visit the event page on our website for an embedded video. RSVP encouraged.
Title references Sara Ahmed's Willful Subjects (2014). 
Conference Detail
The 47th annual Scholar and Feminist Conference organized by BCRW is entitled "Living in Madness: Decolonization, Creation, Healing." The conference will be virtual and sessions will take place over a period of weeks from February to April, 2022.
This conference will explore experiences of madness, disability, survival, and refusal through the frameworks of mad studies, disability justice, and artistic practice. Scholars, artists, activists, and practitioners will interrogate structures of medicalization and institutionalization, engaging in dialogue about the entanglement of psy-disciplines with colonial and nation-building projects predicated on scientific racism, misogyny, xenophobia, transphobia, and eugenics. We ask how structural violence has both created maddening conditions and established the terms by which survivors are pathologized, criminalized and alienated.
Among the questions we want to explore are those posed by conference panelist Camille Robcis in her intellectual history of institutional psychotherapy, Disalienation: Politics, Philosophy, and Radical Psychiatry in Postwar France (2021), specifically how movements that have attempted to decolonize and otherwise contest the practices of psychiatry can provide us with frameworks to understand our own positioning vis-à-vis "the permanence of extreme-right movements, fascisms real and 'in our heads,' still spreading and gaining force throughout the world." We take inspiration as well from our Fall 2021 event with La Marr Jurelle Bruce, whose critical discourse about madness encompasses unruliness, radical creativity, and rage in the face of systems that have used the concept of Blackness as disability to foreclose the possibilities of Black freedom. Our conference dialogues will also engage calls for intersectional approaches to abolition and decarceralization address disability and madness, and the imperative to center the experiences of indigenous and Palestinian people resisting psychic oppression while living under occupation.
The impetus for this conference comes as we collectively persist while a virus has exposed structural violence and inadequacy of profit-based systems of care, and we are also confronted with increased ecological fragility. We are now understandably asking questions about the shakiness of human experience, and how to reckon with what might be called "unlivable states of mind." War, ecological destruction, land dispossession, occupation and policing, precarious access to shelter, and confinement in a total institution are among the conditions that are maddening, and yet upheld by powerful schemas that place value on profit, property, and hierarchy over collective wellbeing.
Gathering together, we explore potential modes of healing. Like seeds we plant without knowing which will root, we pursue collectivity and creativity in order to keep living.
About the Speakers
Liat Ben-Moshe is an interdisciplinary scholar-activist working at the intersection of disability/madness, incarceration/decarceration and abolition. She is the author of Decarcerating Disability: Deinstitutionalization and Prison Abolition (University of Minnesota Press 2020) and co-editor of Disability Incarcerated (Palgrave 2014). Dr. Ben-Moshe is an Associate Professor of Criminology, Law and Justice at the University of Illinois at Chicago. For more: https://www.liatbenmoshe.com/
Emily Ng is Term Assistant Professor in Asian & Middle Eastern Cultures at Barnard College, Columbia University, and a member of the RURALIMAGINATIONS project at the Amsterdam School for Cultural Analysis, University of Amsterdam. Her work, ethnographic and otherwise, touches on madness between grammars of spirit mediumship and psychiatry, loss and cosmic reverberations of sovereignty, and political temporalities and aesthetics of rurality in China. She is author of A Time of Lost Gods: Mediumship, Madness, and the Ghost after Mao (University of California Press, 2020). 
Ann Pellegrini is Professor of Performance Studies and Social and Cultural Analysis at NYU. They are the author of Performance Anxieties: Staging Psychoanalysis, Staging Race (Routledge, 1997); co-author, with Janet R. Jakobsen, of Love the Sin: Sexual Regulation and the Limits of Religious Tolerance (NYU Press, 2003; Beacon Press, 2004); and co-author, with Michael Bronski and Michael Amico, of "You Can Tell Just By Looking" and 20 Other Myths about LGBT Life and People (Beacon Press, 2013). Pellegrini has published two anthologies: Queer Theory and the Jewish Question, co-edited with Daniel Boyarin and Danial Itzkovitz (Columbia University Press, 2003); and Secularisms, co-edited with Janet R. Jakobsen (Duke University Press, 2008). She is founding co-editor, with José Muñoz, of the "Sexual Cultures" Series, at New York University Press, which she now co-edits with Joshua Chambers-Letson and Tavia Nyong'o. Pellegrini is a licensed psychoanalyst. They and Dr. Avgi Saketopoulou received the first Tiresias Paper Award, in 2021, from the International Psychoanalytic Association for their co-written paper: "A feminine boy: normative investments and reparative fantasy at the intersections of gender, race, and religion."
Camille Robcis is Professor of French and History at Columbia University.  She specializes in Modern European History with an emphasis on gender and sexuality, France, and intellectual, cultural, and legal history.  She is especially interested in the intersections of politics and ideas. She is the author of The Law of Kinship: Anthropology, Psychoanalysis, and the Family in France (Cornell, 2013) and of Disalienation: Politics, Philosophy, and Radical Psychiatry in France (Chicago, 2021). She has received fellowships from the Penn Humanities Forum, LAPA (Princeton Law and Public Affairs), the National Endowment for the Humanities, the Institute for Advanced Study, and the John Simon Guggenheim Foundation. She is currently working on a new book tentatively titled The Gender Question: Populism, National Reproduction, and the Crisis of Representation. 
Lara Sheehi, PsyD (she/hers), is an Assistant Professor of Clinical Psychology at the George Washington University's Professional Psychology Program. She teaches decolonial, liberatory and anti-oppressive theories and approaches to clinical treatment, case conceptualization, and community consultation. She is the president-elect of the Society for Psychoanalysis and Psychoanalytic Psychology (APA Division 39), and the chair of the Teachers' Academy of the American Psychoanalytic Association. She is co-editor of Studies in Gender and Sexuality and co-editor of CounterSpace in Psychoanalysis, Culture, and Society. Lara is on the advisory board to the USA–Palestine Mental Health Network and Psychoanalysis for Pride. She is co-author with Stephen Sheehi of the book Psychoanalysis Under Occupation: Practicing Resistance in Palestine (Routledge, 2022).
Accessibility
Live transcription and ASL interpretation will be provided. Please email any additional access needs to skreitzb@barnard.edu.
This event is free and open to all.
The event will stream on BCRW's YouTube Channel. RSVP to receive a link to the livestream closer to the date of the event.
Image Detail
Rather than simply renovate the Israeli military for another function, our project aims to accelerate the process of its destruction and disintegration, no longer used by humans, and instead "returned to nature."
Credit: Oush Grab: Return to Nature, 2008, DAAR (Decolonizing Architecture Art Residency), Photomontage by Sara Pellegrini.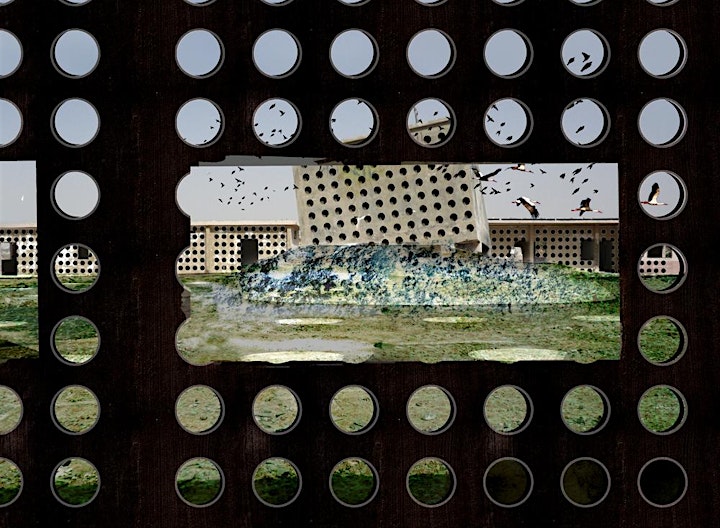 Time

(Wednesday) 6:30 pm - 8:00 pm