27jan12:00 pm- 1:30 pmTechnologies of Power: OPACITY
Event Details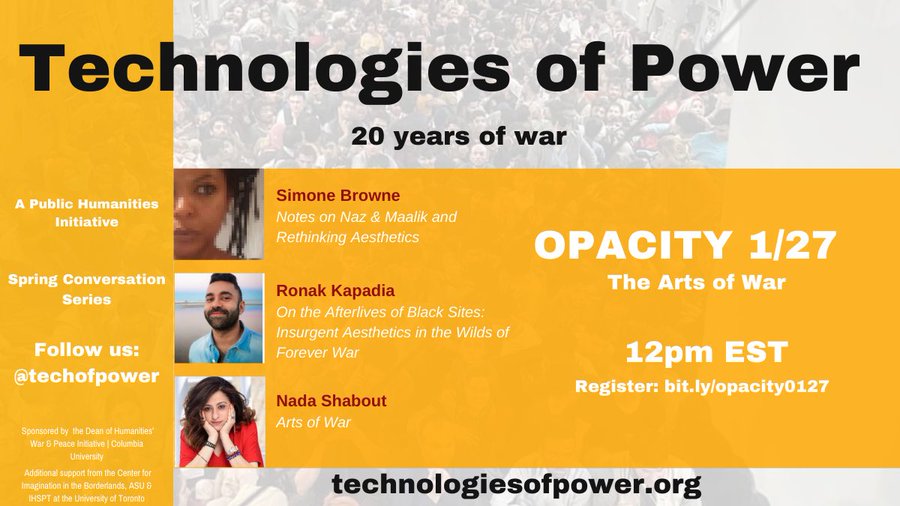 Part of the series "Technologies of Power: Tracing Empire at Home & Abroad" | A public humanities initiative at Columbia University
Simone Browne is Associate Professor of Black Studies and Research Director of Critical Surveillance Inquiry with Good Systems, at the University of Texas at Austin. She is currently writing her second book manuscript, Like the Mixture of Charcoal and Darkness, which examines the interventions made by artists whose works grapple with the surveillance of Black life, from policing, privacy, smart dust and the FBI's COINTELPRO to encryption, electronic waste and artificial intelligence. Together, these essays explore the productive possibilities of rebellious methodologies and creative innovation when it comes to troubling surveillance and its various tactics, and imagining Black life beyond the surveillance state. Simone is the author of Dark Matters: On the Surveillance of Blackness.
Ronak K. Kapadia is Associate Professor and Director of Graduate Studies in the Gender and Women's Studies Program at the University of Illinois at Chicago. His first book, Insurgent Aesthetics: Security and the Queer Life of the Forever War (Duke University Press, 2019) won the 2020 Surveillance Studies Network Book Award. This book theorizes the world-making power of contemporary art responses to US militarism in the Greater Middle East. His new project, "Breathing in the Brown Queer Commons," examines race-radical queer and trans migrant futurisms to develop a critical theory of healing justice and pleasure across transnational sites of security, terror, and war in the wilds of ecological chaos and US imperial decline.
Nada Shabout is a Regent Professor of Art History and the Coordinator of the Contemporary Arab and Muslim Cultural Studies Initiative (CAMCSI) at the University of North Texas. She is the founding president of the Association for Modern and Contemporary Art from the Arab World, Iran and Turkey (AMCA). She is a curator and author of numerous essays and books, including Modern Arab Art: Formation of Arab Aesthetics, 2007; coeditor of New Vision: Arab Art in the 21st Century, 2009; and coeditor Modern Art in the Arab World: Primary Documents, Museum of Modern Art, 2018. She is currently working on a new book project, Demarcating Modernism in Iraqi Art: The Dialectics of the Decorative, 1951-1979, under contract with the American University in Cairo Press.
Time

(Thursday) 12:00 pm - 1:30 pm