8feb4:30 pm- 7:00 pmRise from the Fall: Profile of a Vietnamese American Leader (Chinh Chu)
Event Details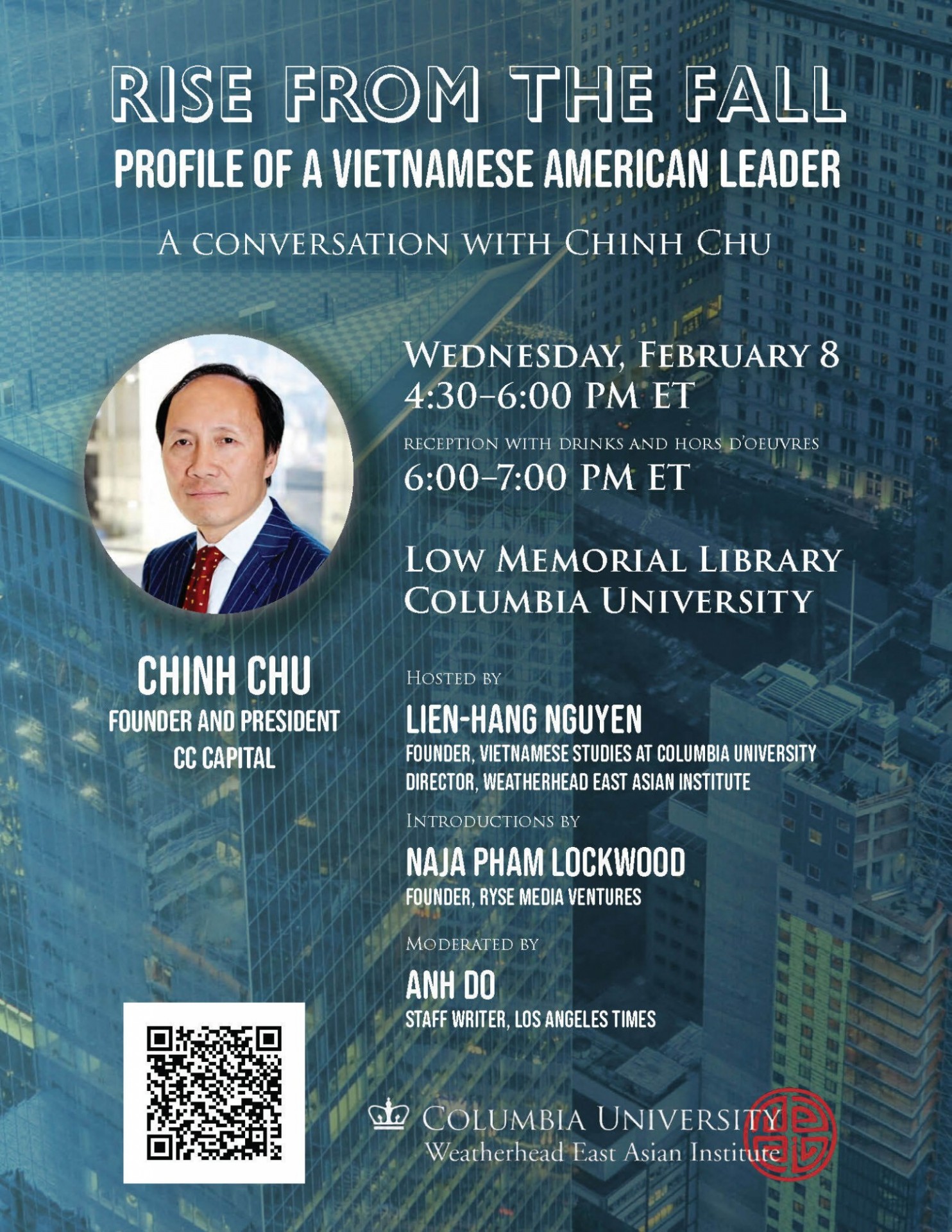 Date: Wednesday, February 8th, 2023
Location: Low Memorial Library Rotunda, 535 West 116th Street, New York, NY 10027
Time: 4:30 PM – 7:00 PM EST (Event runs from 4:30 – 6:00 PM, followed by a reception from 6:00 PM – 7:00 PM)
Register here.
SPEAKER: Chinh Chu, Founder & President of CC Capital
HOST: Professor Lien-Hang T. Nguyen, Founder, Vietnamese Studies, Director, Weatherhead East Asian Institute
INTRODUCTIONS: Naja Pham Lockwood, Founder and CEO, RYSE Media Ventures
MODERATOR: Anh Do, Staff Writer, Los Angeles Times
Chinh Chu has had an illustrious 30-plus-year career as a private-equity investor and executive. He is the former Co-Chair of Blackstone Private Equity. He joined Blackstone in the early 1990s and spent 25 years at the firm, becoming head of the Software and Technology, Financial Services, Chemicals and Healthcare groups. He served on Blackstone's Executive Committee, co-chaired its Private Equity group, and was a member of its Investment Committee. Mr. Chu led some of the most prominent and successful private equity deals at Blackstone. Mr. Chu founded CC Capital in 2016 and has since spearheaded both traditional private-equity investments as well as a series of SPACs (special purpose acquisition companies). He led the $7.2 billion going-private transaction of Dun & Bradstreet in February 2019  — and less than 18 months later, Dun & Bradstreet was taken public at a 3.5x return for CC Capital's equity investors. CC Capital has created 5 SPACs since 2016, 3 in partnership with Neuberger Berman. Its SPACs have invested in high-quality businesses including Getty Images ($4.8 billion), the global leader in photo imaging and distribution; UTZ ($1.6 billion), the 100 year-old leading manufacturer of salty snacks; E2 Open ($2.6 billion), the leading supply chain software company; and FG Insurance ($2.1 billion), the life and annuities insurer. Mr. Chu has served on over 20 public and private corporate boards including: City Harvest, Getty Images, E2 Open, Dun & Bradstreet, NCR Corporation, Catalent, Kronos, SunGard Data Systems, Biomet, Celanese Corporation, Nalco, Nycomed, Alliant Insurance Services, London International Financial Futures and Options Exchange (LIFFE), Graham Packaging, AlliedBarton, and BankUnited. Before joining Blackstone, Mr. Chu worked at Salomon Brothers in the Mergers & Acquisitions department. He graduated summa cum laude from the University of Buffalo's School of Management.  
Mr. Chu was born in Vietnam and emigrated to America at the end of the Vietnam War in 1975. He is the eldest of 6 children born to Dennis and Linda Chu.  Mr. Chu currently lives in New York City and is passionate about philanthropy, music, mountaineering, and, most importantly, his two daughters.
Lien-Hang Nguyen is the Dorothy Borg Associate Professor in the History of the United States and East Asia, Director of the Weatherhead East Asian Institute, and co-founder of Vietnamese Studies at Columbia University. She is author of Hanoi's War: An International History of the War for Peace in Vietnam (2012), which won the Society for Military History Edward M. Coffman Prize and the Society for Historians of American Foreign Relations Stuart L. Bernath Prize. Professor Nguyen serves as the general editor of the Cambridge History of the Vietnam War, 3 vols., as well as co-editor of the Cambridge Studies in US Foreign Relations. She is currently working on a comprehensive history of the 1968 Tet Offensive with Random House. She has appeared on numerous documentaries including PBS History with David Rubenstein, CNN Documentary, and MSNBC's A Rachel Maddow Special Report. Professor Nguyen received her BA from the University of Pennsylvania and her MA, MPhil, and PhD from Yale University.
Naja Pham Lockwood has produced multiple documentary and narrative films focusing on social justice issues including 76 Days, Try Harder!, Coming Home Again, Gook and Cries From Syria. She is the co-founder of RYSE Media Ventures, which supports stories of diverse voices, and an investor in Impact Partners Films, where she has financed the Academy Award winning documentary, Icarus as well as Won't You Be My Neighbor and Audrie and Daisy. She served on the Sundance Utah Advisory Board and partnered with Sundance Institute to build and fund the Sundance Screenwriters Fellowships for Asian American filmmakers. She currently serves on the Board of the Utah Film Commission and Center for Asian American Media (CAAM). Naja is an associate instructor at the University of Utah teaching the Power of Storytelling: Asia and the Global Cinema. She is the Founder and CEO of www.najalockwooddesigns.com to support female artisans of Southeast Asia. Born in Vietnam, Naja immigrated to Massachusetts during the Fall of Saigon. She was the first Vietnamese-American to be appointed by Mayor Willie Brown and Mayor Gavin Newsom to be Arts Commissioner of San Francisco with a focus on community and diversity and the expansion and capital campaign development of the Asian Art Museum. Throughout Naja's life, there has always been a commitment to social justice and making sure the voices of the under-represented, the minority and the oppressed are heard.
Anh Do is a Metro reporter covering Asian American issues and general assignments at the Los Angeles Times. A second-generation journalist, she has worked at the Seattle Times, the Orange County Register and Nguoi Viet Daily News, the largest Vietnamese-language newspaper in the US, based in California and founded by her late father. Born in Saigon, Do is a graduate of the University of Southern California with degrees in journalism and English and she has reported from Cuba, India, Mexico, Peru and Vietnam, elevating on-the-ground storytelling with cultural research and techniques honed from five years of living in Mexico City. Her writing on diaspora, race and trauma has won awards from Columbia University, Freedom Newspapers Sweepstakes and the Asian American Journalists Association. She is a recipient of Yale's Poynter Fellowship in Journalism, and in 2016, she was part of the team that won a Pulitzer Prize for its breaking news coverage of the San Bernardino terrorist attacks. Apart from words, she's passionate about all things canine, spending 27 years volunteering in dog rescue campaigns around the globe.
This event is sponsored by the Weatherhead East Asian Institute at Columbia University.
Time

(Wednesday) 4:30 pm - 7:00 pm
Location

Low Library Rotunda