20apr6:00 pm- 7:30 pmConducting Research in and About China in a Time of Uncertainty Danping Wang)
Event Details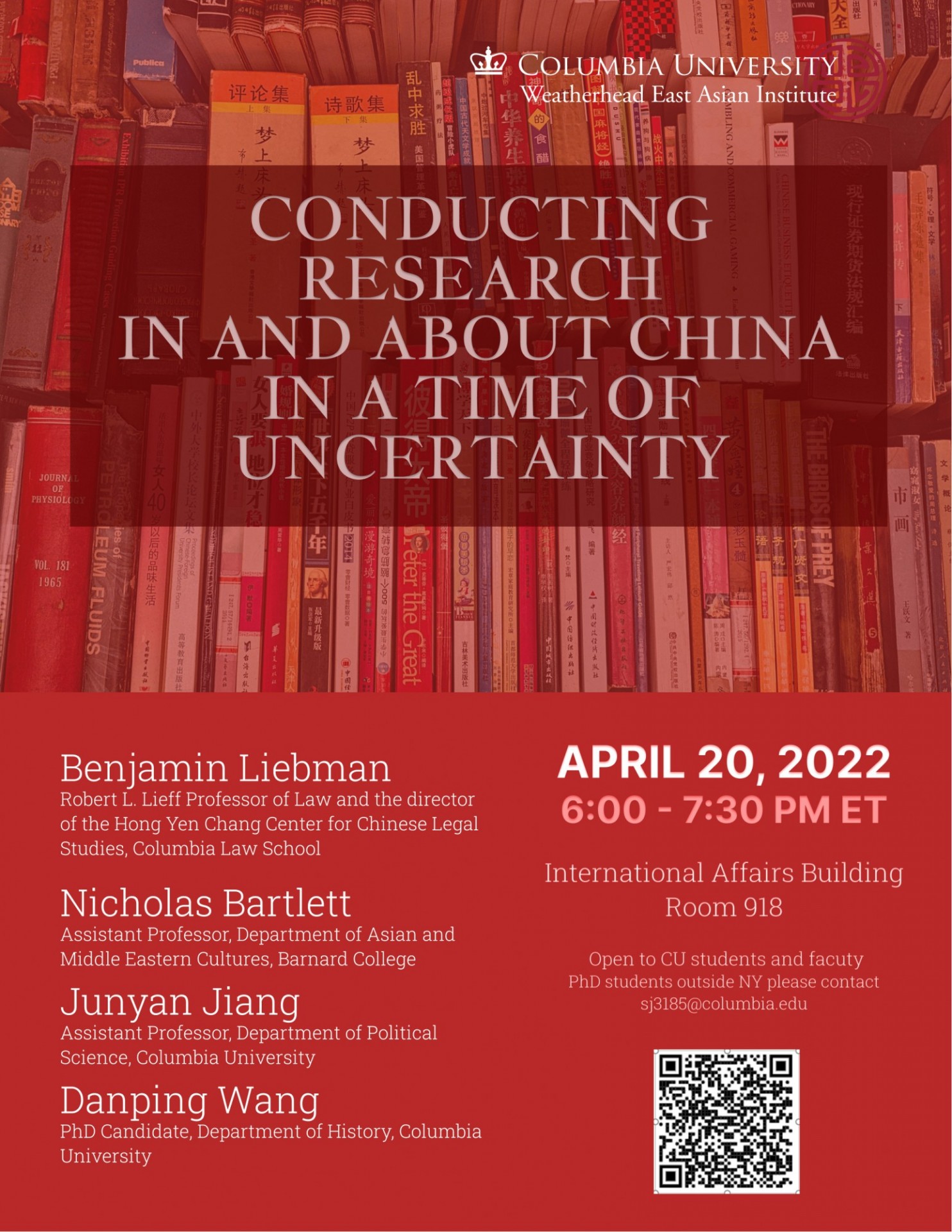 Registration:
To register to attend this event please click HERE (for CUID holders only; interested PhD students should please contact sj3185@columbia.edu)
Event Description
Conducting research in China today presents mounting challenges from many different directions. Please join our panel of experienced scholars as they discuss recent strategies for pursuing their work in a time of heightened anxiety and controls.
About the Speakers
Benjamin L. Liebman is Robert L. Lieff Professor of Law at Columbia Law School and the director of the Hong Yen Chang Center for Chinese Legal Studies, the first institution of its kind at a US law school. The Center prepares students to take on leadership roles in Chinese law and provides them with the skills and knowledge they need to succeed in China's rapidly changing legal environment.
Widely known as a preeminent scholar of contemporary Chinese law, Liebman studies Chinese court judgments, the roles of artificial intelligence and big data in the Chinese legal system, Chinese tort law, Chinese criminal procedure, and the evolution of China's courts. His research has covered diverse topics in Chinese law over the years, ranging from leniency in criminal law to medical dispute resolution and securities markets.
Nicholas Allyn Bartlett is an anthropologist and assistant professor in the department of Asian and Middle Eastern Cultures at Barnard College. His research interests include addiction, labor, and psychoanalytic approaches to group life in China. He is the author of Recovering Histories: Life and Labor after Heroin in Reform-era China (University of California and Columbia Weatherhead 2020).
Junyan Jiang is an assistant professor in the department of political science at Columbia University. He studies comparative politics and political economy, focusing on the politics of elites, organizations, and ideas. Some of his current research projects explore the formation and transformation of political elite networks in China, the interplay between formal rules and informal power in bureaucratic systems, and the dynamics of ideology in changing societies. His work has appeared in the American Journal of Political Science, the British Journal of Political Science, the Journal of Politics, the Journal of Public Economics, and the Journal of Development Economics, among others. Prior to teaching at Columbia, he was an assistant professor at the Chinese University of Hong Kong. He received his PhD in political science from the University of Chicago and BA in economics and finance from the University of Hong Kong.
Danping Wang is a PhD candidate in the Department of History at Columbia University. Her dissertation traces the anti-cancer efforts of the Chinese Communist Party and the experience of Chinese cancer patients, with a special focus on the case study of esophageal cancer in Linxian, Henan province. Drawing on both Chinese and the US archival sources, oral history interviews, and an array of published sources, her research explores how political, social, technological and medical infrastructure shaped the Chinese anti-cancer efforts, and how the anti-cancer efforts, in turn, helped the CCP consolidate its regime. 
For Columbia students and faculty. Interested PhD students should please write to sj3185@columbia.edu.
This event is sponsored by the Weatherhead East Asian Institute.
Time

(Wednesday) 6:00 pm - 7:30 pm
Location

918 International Affairs Building